Who's ready for baseball season?
The boys of summer are set to take the field for the 2022 MLB season beginning April 7.
But will you be able to watch the games of your favorite local baseball team? For many streaming TV users, the answer is: not without some serious maneuvering.
Ongoing contract disputes between streaming services and one of Major League Baseball's top broadcasting partners will leave many viewers without access to the channels that carry their favorite teams.
It's one of the most frustrating and confusing sports streaming situations in recent years.
Let's dig into this issue and find some solutions.
---
---
How Local Broadcasts for MLB Games Work
Major League Baseball teams have regions of the country that are considered their "local" television markets.
For example, people who live in Georgia (and parts of other nearby states) are in the Atlanta Braves' local television market.
When you're physically located in a team's local television market, the only way you're supposed to be able to watch games is through regional television affiliates that have contracts with Major League Baseball.
These are referred to as "regional sports networks."
In our Braves example, the regional sports network was Fox Sports South for many years. (It's now called Bally Sports South. More on that later.)
People living inside the coverage area of a regional sports network have to subscribe to a cable or streaming service that carries the network that carries their team's games.
This includes nationally-televised games. If a Braves game is broadcast nationally on a platform such as ESPN, it will be "blacked out," that is, not aired, in that regional sports network's local TV market.
The idea, from a broadcast contract perspective, is that you either watch the local team on your regional sports network or you don't watch it at all.
That's good for them — but bad for us. Read on.
---
Why Many Fans Won't Have Access to Local Baseball Games in 2022
If you're missing out on your local team's games this season, it may be because you subscribe to a streaming service that no longer airs them.
And in many cases, that's because those games air on a regional sports network that is owned by Sinclair Broadcasting Group.
Sinclair is responsible for broadcasting local telecasts of 14 MLB teams, 17 NBA teams and 13 NHL teams.
In the latter half of 2020, the Sinclair-owned sports networks (usually branded as "Fox Sports" networks) were removed from services YouTube TV and Hulu + Live TV after Sinclair failed to reach new contract agreements with those live streaming services.
There were not agreements to rectify the situation in time for the 2021 baseball season, and there is nothing to indicate that anything will change during the 2022 season.
And to complicate matters further, it recently was revealed that Sling TV no longer will carry the Mid-Atlantic Sports Network (MASN) or the NBC Sports regional networks.
But the games are still available on cable and satellite services that have agreements currently in place with regional sports networks. And you can use your login credentials for those services to stream games on phone and tablet apps.
---
Which Streaming TV Customers Are Affected?
If you're a customer of a popular live TV streaming service such as YouTube TV or Sling, you may be surprised to learn that you no longer have access to the television network that carries your local baseball team's games.
Customers of the following streaming services may not have access to MLB games in their local broadcasting areas:
DIRECTV STREAM is currently the sole streaming-only TV service that carries Sinclair's regional sports networks.
If you are a satellite or cable TV customer, chances are pretty good that you still have access to your regional sports network. (You'll want to verify this with your individual local provider to be sure.)
---
Some Potential Solutions To Watch Local Baseball Games in 2022
Are you a streaming TV subscriber affected by these contract issues?
We have some ideas for watching your favorite team this season.
1. Change Your Streaming Subscription to DIRECTV STREAM
Is your loyalty to your favorite team or to your streaming service? Unfortunately, your allegiance to both may be tested as a result of this situation.
You could dump your current streaming provider in favor of DIRECTV STREAM, since it's still providing access to many of the regional sports networks that carry Major League games.
DIRECTV STREAM offers regional sports networks at its $89.99 monthly pricing level. Ouch!
But if you're OK with paying YouTube TV $65 per month, you may not mind the cost increase for DIRECTV STREAM if it means you'll get to see your games.
And DIRECTV STREAM offers a full refund to new customers if you cancel within 14 days, so you can give it a test run before committing to leaving your current service.
Also, if your team starts to stink, you could always dump DIRECTV STREAM mid-season (there's no cancellation penalty) and resume your old streaming service.
It's worth noting that some services, including YouTube TV, will let you "pause" service for up to six months without losing access your cloud DVR or your settings.
Before you make this jump, you'll want to make sure your desired regional sports network is available through DIRECTV STREAM by using this ZIP code tool.
2. Go Back to Your Local Cable Provider
The simplest answer to this problem may be the most painful for cord-cutters.
If your local cable provider offers the regional sports network that you need to watch your favorite baseball team, the easiest remedy could be to sign back up for cable and watch the games.
You may find prices to be more competitive now. With services like YouTube TV and Hulu + Live TV upping subscription rates recently, your cable company may have a package that costs about the same.
And if you've been gone long enough, you may qualify for a new promotional price on your cable bill.
3. Borrow a Cable Password From a Family Member
Are Mom and Dad still subscribing to cable? This could be your quick fix.
Most cable customers get streaming access for games, so you could download the regional sports network's app on your TV, phone, tablet or computer and then stream the game live with cable login credentials.
Of course, you should pay close attention to the cable provider's terms of service to ensure that you're not breaking any rules.
And note that the cable company may do a search for the IP address on your device, which may mean you have to resort to a strategy such as to #4 below.
4. Use a VPN To Stream MLB.TV
While researching this story, I found this Reddit thread that may provide a suitable workaround for some of you.
It requires you to subscribe to MLB.TV, which is Major League Baseball's streaming service. It offers live streaming for all 30 baseball teams for $139.95 per season (or for free if you're a T-Mobile customer; more on that later).
Under normal circumstances, the hometown team's games are set to be "blacked out" on MLB.TV for viewers in each team's local television market.
But you may be able to avoid that blackout if you are streaming with a VPN (virtual private network).
Many people use VPNs to keep their IP addresses anonymous while browsing the internet. Using a VPN could keep the streaming service from figuring out that your IP address is in the local market for the baseball team.
This may be an ethical gray area, but it's a dilemma that money expert Clark Howard says these broadcast companies have put fans in through no fault of our own.
"You and I have been made pawns in these rights/fees fights for sports networks," Clark says.

"They're treating the customer like dirt. And because of that, you have to decide if you feel using a VPN is ethical. But the most practical way to do this for most streamers is to use a VPN."
---
How To Watch Your Favorite Baseball Team Out of Market
If you're a fan of a baseball team that is not a part of your regional sports network's local market, the solutions for watching your favorite team are far more simple.
Either pay for one of Major League Baseball's subscriptions or wait for the nationally-televised games on live TV.
Here's how that works.
1. Subscribe to MLB.TV or MLB Extra Innings
If you want access to all 162 of your favorite team's games this season, the easiest way to assure that you'll get it is to pay for one of the league's subscription services.
MLB.TV is the league's streaming service that gives you access to almost every out-of-market baseball game played in the season.
It costs $139.95 for the season and gives you both live and on-demand access to games on several different platforms.
If you're a T-Mobile customer, you may be able to get the MLB.TV package for free by claiming a promotion on the T-Mobile Tuesdays app. This has been a popular deal in the last couple of years. Last season, it was offered March 30-April 5, 2021.
MLB Extra Innings is the cable and satellite package that offers access to out-of-market games. The pricing for this can vary slightly based on the provider.
2. Watch Nationally-Televised Broadcasts of Your Favorite Team
If you're not looking to spend any extra money on your out-of-market baseball team, you will be at the mercy of the scheduling of the broadcast networks.
These channels have regularly scheduled Major League Baseball games each week during the 2021 season:
ESPN family of networks (ESPN, ESPN2, ESPN+, etc.)
MLB Network
FOX
FS1
TBS
Some teams appear often on these networks, while others don't receive nearly as much national attention. For example, New York Yankees games will be more national broadcasts than the Pittsburgh Pirates. This is a product of both market size and on-field performance.
New in 2022, there will be weekly games exclusive to the following streaming services:
---
Regional Sports Networks for Each Major League Baseball Team
If you are looking for the local broadcast for your favorite baseball team in 2022, check out the current list of regional sports networks.
You'll want to check with your TV provider to make sure it offers the channel.
| MLB Team | Regional Sports Network | Live TV Streaming Options |
| --- | --- | --- |
| Arizona Diamondbacks | Bally Sports Arizona | DIRECTV STREAM |
| Atlanta Braves | Bally Sports South and Bally Sports Southeast | DIRECTV STREAM |
| Baltimore Orioles | Mid-Atlantic Sports Network (MASN) | DIRECTV STREAM |
| Boston Red Sox | New England Sports Network (NESN) | DIRECTV STREAM, fuboTV |
| Chicago Cubs | Marquee Sports Network | DIRECTV STREAM, fuboTV |
| Chicago White Sox | NBC Sports Chicago | DIRECTV STREAM, fuboTV, Hulu + Live TV, YouTube TV |
| Cincinnati Reds | Bally Sports Ohio | DIRECTV STREAM |
| Cleveland Indians | Bally Sports Great Lakes | DIRECTV STREAM |
| Colorado Rockies | AT&T SportsNet Rocky Mountain | DIRECTV STREAM |
| Detroit Tigers | Bally Sports Detroit | DIRECTV STREAM |
| Houston Astros | AT&T SportsNet Southwest | DIRECTV STREAM, fuboTV |
| Kansas City Royals | Bally Sports Kansas City | DIRECTV STREAM |
| Los Angeles Angels | Bally Sports West | DIRECTV STREAM |
| Los Angeles Dodgers | Spectrum SportsNet LA | DIRECTV STREAM |
| Miami Marlins | Bally Sports Florida | DIRECTV STREAM |
| Milwaukee Brewers | Bally Sports Wisconsin | DIRECTV STREAM |
| Minnesota Twins | Bally Sports North | DIRECTV STREAM |
| New York Mets | SportsNet New York (SNY) | DIRECTV STREAM, fuboTV, Hulu + Live TV, YouTube TV |
| New York Yankees | YES Network | DIRECTV STREAM |
| Oakland Athletics | NBC Sports California | DIRECTV STREAM, fuboTV, Hulu + Live TV, YouTube TV |
| Philadelphia Phillies | NBC Sports Philadelphia | DIRECTV STREAM, fuboTV, Hulu + Live TV, YouTube TV |
| Pittsburgh Pirates | AT&T SportsNet Pittsburgh | DIRECTV STREAM, fuboTV |
| San Diego Padres | Bally Sports San Diego | DIRECTV STREAM |
| San Francisco Giants | NBC Sports Bay Area | DIRECTV STREAM, fuboTV, Hulu + Live TV, YouTube TV |
| Seattle Mariners | Root Sports Northwest | DIRECTV STREAM |
| St. Louis Cardinals | Bally Sports Midwest | DIRECTV STREAM |
| Tampa Bay Rays | Bally Sports Sun | DIRECTV STREAM |
| Texas Rangers | Bally Sports Southwest | DIRECTV STREAM |
| Toronto Blue Jays | Sportsnet (Canada) | -Canadian TV- |
| Washington Nationals | Mid-Atlantic Sports Network (MASN) | DIRECTV STREAM |
---
Fox Sports Regional Networks Are Now Called "Bally Sports"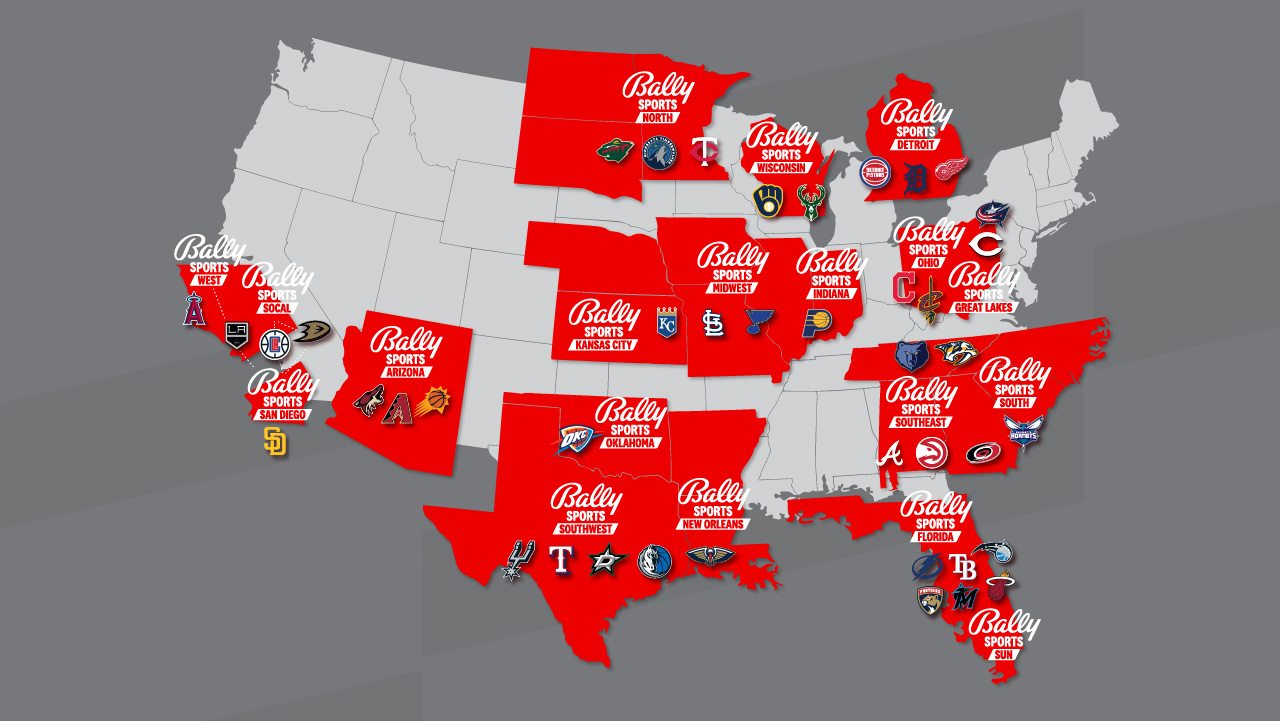 To complicate an already convoluted situation, there was a big network name change in 2021 that may cause you some confusion.
According to the Wall Street Journal, Bally's is paying Sinclair $88 million over the next 10 years to rebrand the Fox Sports Regional Networks to Bally Sports Networks.
The channels for these networks should remain the same on your cable or satellite subscriptions, but you'll want to verify that.
Remember, only DIRECTV STREAM offers these channels via live TV streaming service. You're out of luck if you have YouTube TV, Hulu + Live TV or Sling.
---
Final Thoughts
If you haven't figured it out by now, finding your favorite baseball team's television broadcasts has become increasingly difficult in the era of live streaming.
It's a complicated problem for Major League Baseball. The regional TV contracts are extremely lucrative. But the trade-off is a confused and frustrated fanbase that may be forced into cable TV subscriptions they don't want.
As a fan living in one of the affected local television markets, your options are somewhat limited.
You're either going to have to pay for cable or satellite service, pay the high sticker price for DIRECTV STREAM's streaming service or find a somewhat sketchy workaround.
---
More Clark.com Content You May Like:
Best Credit Card Welcome Bonuses for 2023
-
If you're in the market for a new credit card in 2023, you may be hoping to cash in on the hundreds of dollars in sign-up bonuses offered to new customers. Welcome bonuses and offers are a marketing tool that…
Best Cell Phone Plans in 2023: The Cheapest Plan for Every Need
-
Team Clark ranks the best cell phone plans and deals! See our favorites for unlimited data, families and cheap plans starting at $10/month.