Have you bought something from Walmart lately and need to return it? The retailer has set out to make returning its merchandise a lot easier — at least for a limited time.
Walmart's Return Policies: Everything You Need To Know
In this article, I'll explore both Walmart's standard return policy and its holiday return policy in detail so that you know what to expect if you need to take an item back.
Quick Links:
What Is Walmart's Holiday Return Policy?
Walmart launched a "no concerns" returns policy on October 1, 2022. It includes more convenient options and extends the time that customers can bring items back. The retailer says it will keep the extended return policy, which Clark calls "the most liberal return policy Walmart has ever had," — through the end of January 2023.
Here are the details of Walmart's holiday return policy:
Extended return period: Eligible purchases, including some electronics and Marketplace items, made on or after October 1, 2022, can be returned through January 31, 2023.
Curbside returns: The retailer says you won't have to go into the store to drop off returns.
Home pickups for returns: Walmart+ members will be able to use the app to have items picked up and returned (not available through all Walmart locations).
Both the curbside returns and home pickups for returns have already begun in select stores and will be rolled out gradually to more locations, the retailer says.
What Is Walmart's Standard Return Policy?
Walmart's standard return policy generally gives you three months to bring an item back. Here's what it says on the store's website: "Items sold and shipped by Walmart can be returned or replaced, when available, by mail within 90 days of receipt."
There are some exceptions involving items bought from dealers or resellers, which I'll touch on later. For now, let's walk through the return process.
How To Return an Item You Bought in a Walmart Store
Under the standard return policy, if you bought an item in a Walmart store, you have to return it in person. You'll need to take the item, along with your receipt, to the customer service desk, which is usually located in the front of the store. (Read on to find instances where you may not need your receipt.)
When I went to the store to return an item, I was asked whether I wanted my refund on my card or cash. I chose to put it back on my card.
If you paid with a credit card, Walmart says it will apply your refund only to that same credit card. If you paid with a debit card, you have the option to put the refund back on the card or get cash.
How To Return an Item You Bought Online
If you buy something through walmart.com, you can return it to a Walmart store or by mail.
Either way, you can start the return process online at walmart.com/return. Alternatively, you can enter your order number at walmart.com/account/trackorder.
Once inside your Walmart account, you can initiate a return from the prompts. If you're taking the item back to the store, remember to take your receipt or order number from your Walmart account with you.
To return an item you bought on Walmart.com by mail, you'll have to print the "Stores Return Receipt" found under your order, which is listed on your account page. There is where you'll also find a shipping label that you can print.
When preparing your return item, ensure you include all the original accessories and packaging. You can then take it to either your local FedEx or post office. Walmart says your refund will be processed once the item is received.
If you don't know whether Walmart will accept the item you want to return, you can log on to Walmart.com and enter the TC number from your receipt. You'll find that number just above the bar code on your receipt. Here's a screenshot: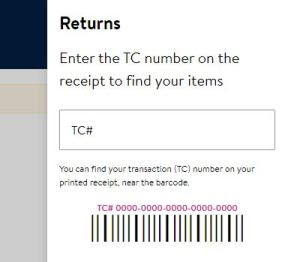 Screenshot via Walmart.com
Once your items come up and you select one of them for a return, the site will tell you if it's eligible for return or not.
This could save you a trip to the store.
Can I Return My Item to Any Walmart Store?
Walmart's website says that you can return most items you've purchased from Walmart or Walmart.com to any location within the United States.
One exception is items bought from Walmart Marketplace dealers or resellers. While many of those items are returnable, the onus on exchanges and refunds rests with the particular vendor. Read more on how returns are handled for items purchased from Walmart Marketplace dealers.
What Are the Exceptions to Walmart's 90-Day Return Policy?
Walmart's standard 90-day return policy covers most of its items, but there are some exceptions. These items must be returned within the specified times:
14 Days: Prepaid wireless phones
30 Days: Most electronics like PCs, tablets, laptops, TVs and cameras
60 Days: Prescription glasses, contacts and hearing aids
1 Year: Trees, shrubs and all perennials
There are some things Walmart won't take back, such as prescription drugs. See the store's returns FAQ page to read the complete list of exceptions to Walmart's 90-day standard return policy.
Do I Need a Receipt To Make a Return?
While you typically will need your store receipt or order number from Walmart.com, the store says if you don't, an associate can look up your store purchases with the debit/credit card you used.
If you provide a phone number or email address, your walmart.com orders can be found as well, it says on the retailer's website.
Note: Walmart's website says that the store reserves the right to refuse a return whether you have a receipt or not.
Will Walmart Always Give Me a Refund for a Return?
In most cases, when you make a standard return you should be able to get cash or the purchase amount credited to the card you used. But there are some instances when you will only be able to make an exchange or receive another form of payment.
If you don't have the credit card you used when you originally made the purchase, you'll be issued a Walmart shopping card or gift card.
If you made your original purchase via gift card and initiated a return, the transaction will be put back on the gift card, or in some cases, a new gift card will be issued.
For a normal refund, you will receive the sticker price amount as well as any taxes and fees associated with the purchase. According to Walmart's website, when it comes to items bought online, "Outbound shipping charges are not always refunded upon return, this can include regular and freight shipping, and any shipping surcharges."
Final Thoughts
Learning the ins and outs of Walmart's return policy should help you shop with confidence. And you now know it's a good idea to hold onto your Walmart receipt for at least 90 days.
Remember that the store's holiday return policy allows you to send items back through the last day of January 2023.
While the store usually has some great prices, you may be able to find the same items cheaper through ClarkDeals or someplace else. In that case, Walmart will often price match.
Want to learn more about shopping there? Read our in-depth guide on how to save at Walmart.
Best Credit Card Welcome Bonuses for 2022
-
If you're in the market for a new credit card in 2022, you may be hoping to cash in on the hundreds of dollars in sign-up bonuses offered to new customers. Welcome bonuses and offers are a marketing tool that…
Best Cell Phone Plans in 2023: The Cheapest Plan for Every Need
-
Team Clark ranks the best cell phone plans and deals! See our favorites for unlimited data, families and cheap plans starting at $10/month.